Chinese Measure Word Dictionary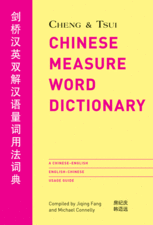 While measure words are essential for speaking and writing fluently in Chinese, they are challenging to master. The innovative Chinese Measure Word Dictionary is the only book that allows you to search entries in three different ways: by measure word, by Chinese noun, and by English noun. Entries comprise the most frequently used measure words and nouns, including vocabulary from the Integrated Chinese textbook series.
On this companion site, feel free to post the tips and resources that have enabled you or your students to learn more effectively.